Here are the basic facts about our prayer request services: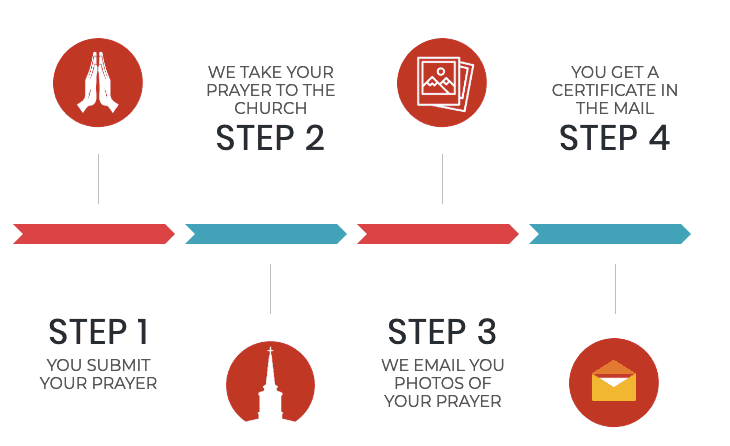 At Holy Land Prayer, we're committed to treating everyone's prayers with the respect they deserve. No matter how large or small your prayer is, we will give it the care and attention it deserves. Here's what happens when you place your order.
First, you'll choose one of our four services. We offer a standard prayer service, a prayer + candle service, a video service, and a personal photo service. Selecting your service is the first step. Just click the "Send Prayer Now" button at the bottom of any service page.
You'll then be sent to PayPal. Fill out your payment information. You do not need to have a PayPal account, but you will need to provide us with a valid email address so we can send you the photos and videos of your prayer and candle in the Church of the Holy Sepulcher.
Once that is done, you will receive a form to put your prayer on. Now it's time to think about your prayer. Close your eyes and open your heart to the Lord and think about the intent of your prayer. Then write down on the form what comes to your heart. The intention behind your prayer is more important than the words.
Once we have all the information we need, we will go to the Church. Our headquarters is within walking distance of the Church, so it is very easy for us to get to. We will take your printed prayer to the Stone of Anointing and place it on top, view example. A priest will pray your prayer in this most holy of places.
If you have chosen to order a candle with your prayer, we will also lit your candle on the Aedicule, the Tomb of Jesus, view example.
If you have ordered our video and candle option, we will take a video of your candle at the tomb in addition to your prayer photos. it is great to share this gift with others. You can see a sample video here.
For the ultimate gift, you can choose the personal photo option and send us a photo of yourself or a loved one along with your prayer. We will then send you photos of your printed prayer on the stone of anointing and a video of your photo and candle on the Aedicule, the Tomb of Jesus.
Once this is finished, you will receive your prayer confirmation and photos of your prayer and candle in the church within few days. You will also receive a certificate of authenticity showing that your prayer was delivered to the Church. A sample certificate can be seen here.
We will also add you to our newsletter list, so you can keep abreast of what is happening at the Church.
Thank you for your interest in ordering a prayer request from Holy Land Prayer!