During the day, you can actively and earnestly give praise to God. During your waking hours, you can set aside time to make a prayer request which can provide a unique and special way for God to hear your pleas. However, once the sun goes down and you are ready to get some rest at the end of a long day, night prayers can implore God to keep you safe and protected throughout the night.
We will print and place your prayer request on the Stone of Anointing; the place where Christ' body was laid down after being removed from the crucifix and prepared for burial.
There are many people who make the decision to pray at night. A prayer of night can revolve around so many different things. For example, you may opt to say a prayer of thanks due to the fact that you appreciate that God kept you safe throughout the day. There are other people who make the decision to pray a prayer of night because they believe that it's a peaceful way to end their day. Regardless of why you pray a prayer of night, here is an example of a powerful prayer that you can use:
Night Prayer for Peace by Augustine of Hippo
O Lord God, grant your peace to us, for you have supplied us with all things — the peace of rest, the peace of the Sabbath which has no evening; through Jesus Christ our Lord. Amen. 
The Night Prayer Catholic
If you're Catholic, there is a possibility that you may prefer a Catholic prayer request for your night time prayer offerings. It's important to remember that you can also make time to incorporate your prayer novenas into your night prayer for a Catholic. If you feel as though you need inspiration in putting a night prayer for a Catholic together, here is an example of a prayer that you can use:
Lord, you alone are God, the gracious and merciful. You command those who love your name to cast away all fear and care, and to lay their burdens on you. Keep us under your protection, and give us now and always that everlasting rest, which you have promised to those who obey your word; through Jesus Christ our Lord.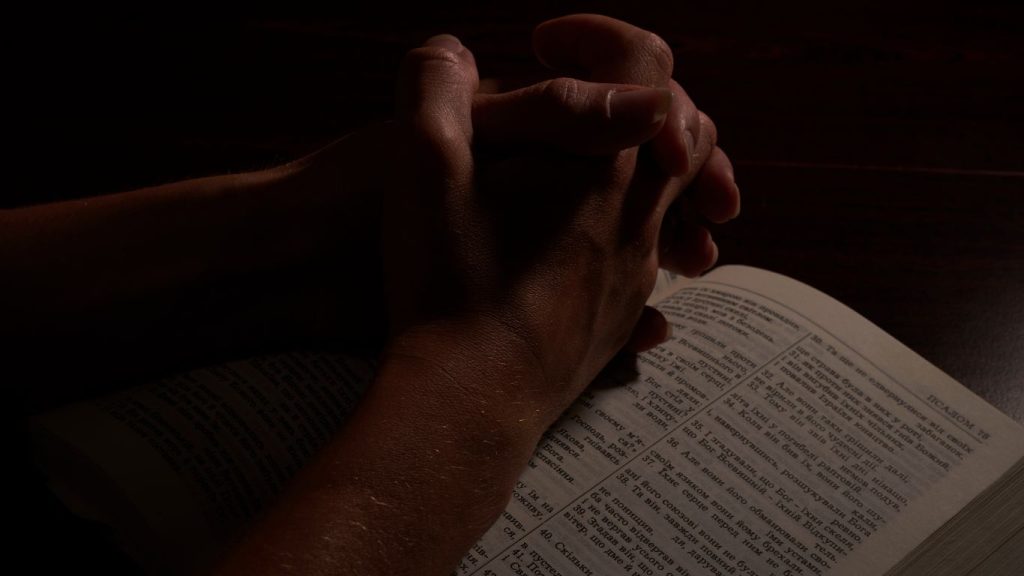 Connecting with God through prayer at night is a lovely and peaceful way to end your day. However, when you're almost drifting into unconsciousness, it may be difficult for you to maintain your prayer. Here is an example of one of the simply night prayers to God that you can pray which will ensure that he will hear your prayer intentions:
O Lord our God, keep us in peace during this night and at all times. Keep our hearts and thoughts secure in holy reverence for you, so that we may be protected at all times
from the snares of the enemy. And let us offer blessing and glory to the Father and to the Son and to the Holy Spirit, now and forever and unto the ages of ages. Amen.
Night Prayers for Protection
Although you may say prayers for protection throughout the day, night prayers for protection can give you the comfort of knowing that God is there with you and for you throughout the night. Night prayers for protection can be as simple as saying the following:
Heavenly Father, I want to thank you for the many blessings that you have given me today. Thank you for your love and protection. Thank you for watching over my family and me throughout the day. Lord, I ask you to watch over us throughout the night too. Keep us safe from any evil that the enemy has planned against us this night. In Jesus' name, I believe and pray, Amen.
Your family is undoubtedly one of the most important things that you have in your life. Therefore, there are countless people who pray for their family at night. Although there are several night prayers for a family you can choose from, here is an excellent example of one:
Lord, I come to you this evening to thank you for my family and friends. I am grateful for all the doors that you are opening and closing in my life. Thank you for the far you have brought me, it is not by might nor by power but by your Spirit. Lord as I go to lie down this night I know that it is only you that makes me dwell in safety. Thank you for giving your angels charge over me, I go to bed knowing that they are watching over me. Thank you for your unconditional love in Jesus' name, I pray, Amen.