OLIVE WOODS CRUCIFIX WITH 4 HOLY LAND ELEMENTS
Special gift includes:
Jerusalem Olive Wood Crucifix
Holy Anointing Olive Oil pressed in Bethlehem
Purifying Holy Water from Jordan River
Holy Earth from the Hills of Bethlehem
Frankinscense from Jerusalem
FREE SHIPPING
Your Special Price: $19.90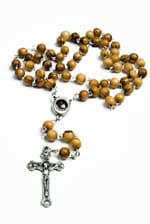 OLIVE WOOD ROSARY WITH METAL CRUCIFIX AND HOLY LAND SOIL
Round bead Olive Wood rosary with metal Crucifix. This Rosary is about 28″ in length. Special medallion containing Jerusalem soil with Maria and Christ embossment. Hand made in Bethlehem in the Holy Land.
FREE SHIPPING
Your Special Price: $14.90