The feeling of worth is so powerful. Without the feeling of worth, one can begin to feel hopeless. When one feels hopeless, they want an escape. When one attempts to escape their life, they shut down and become prisoner to their negative thoughts and loneliness.
Depression is a physical, mental and spiritual condition. It is characterized by the consistent feeling of hopelessness and joylessness. It can come in like a dark and dense cloud; its spirit of heaviness can weigh one down.
One of the ways to help prevent someone from falling down this slippery slope of depression is by going out of your way to make sure others in your community feel their worth. The good Word of God paired with your own good word can be enough to change the outlook or condition of a troubled heart for the better. Practice compassion and make people feel like they are important, like they are loved and like they are enough. We all seek these fundamental needs; these desires were planted in our hearts by God.
Proverbs 12:25- Anxiety in a man's heart weighs it down (depression), but a good word cheers it up.
If you come across someone and see that they are struggling or having a tough time, offer them your support and encouragement. You don't even need to worry about coming up with the most motivating and poetic thing to say to them. It can be as simple and heartfelt as an embrace and telling them these three words, "You are enough." Sharing these simple messages of affirmation has so much impact. Compassion and love is what can make someone escape their hole and get back their life.
Unfortunately over the years, society has developed this stigma surrounding mental illnesses and depression that has done our community a huge disservice. This negative stigma inevitably pushes people suffering from depression away from seeking the help they need. It's a double-edged sword.
Depression is often viewed as a weakness that can be remedied with an attitude adjustment. But in reality, it is more than just a slump or a period of sadness. There are some people who truly have mental illnesses. There are some people that have chemical imbalances in their brains and it's not their fault. It can stem from their upbringing, their influences or just simply a bad luck of the draw.
Mental illness and depression is not a choice. It is something that occurs over time. If you or someone you know is struggling with depression, seek professional help immediately. There is absolutely no shame in receiving help.
Psalm 31:22,24 – You heard my cry for mercy when I called to you for help… Be strong and take heart, all you who hope in the Lord.
Everybody has that time where they hit rock bottom. It could be anything such as a bankruptcy, a divorce or a death of a loved one. Life happens to all of us at one point or another. You may feel like you have hit a wall and life has you pinned down to the ground. You are lying flat on the ground and all you can do is look up. You feel stuck. You feel paralyzed as you look up and see all the things you want, hope and desire just pass you by.
Psalm 34:18, 19 – The LORD is close to the brokenhearted and saves those who are crushed in spirit. (19) A righteous man may have many troubles, but the Lord delivers him from them all.
You lie there, and the decision is do you stand up and start fighting for those things you want, hope and desire? Or do you continue to lie there and stare at all the things you want, hope and desire?
There is no one else that can do anything for you. The only thing that is capable of destroying the cause, process and effects of depression is God's hope and his word of hope. The solution is to get God's hope back inside of you. His hope will give you the clarity to once again see all the possibilities for your future. Hope also gives you the motivation to take action and the encouragement to stay on the road to faith and joy.
Psalm 55:22 – Cast your cares on the Lord and he will sustain you; he will never let the righteous fall.
God's deliverance can set you free. However, it is in your responsibility to fight for your continued deliverance. You must make the decision; are you going to lie there on the ground and keep dreaming or stand up and start taking action?
The second you stand up is the second that you succeed. The second you stand up is right when you become the hero. Whatever happens to you next is part of the journey of being a hero. You are your own hero the second you stand up.
Experience the glorious freedom and joy that God has for you. You have the power to succeed and you have the power to stand up. You have the power to achieve and make things happen. Even if you "fail" and things don't work out the way you expected, it's okay. Why? Because the worth is in the journey. The worth is in standing up. The worth is in the exploration. The worth isn't necessarily in the outcome.
Psalm 37:23-24 – If the Lord delights in a man's way, he makes his steps firm; though he stumbles, he will not fall, for the Lord upholds him with his hand.
So, how do you make a shift in your life? How do you make this change?
Stand up and start taking action. Fight for God's outlook with all you have. Be your own hero.
Believe in the bible for it holds the mind and ways of God. Read scriptures and verses that resonate with you and inspire you. Meditate on them. Then say some of the prayers below or have your own conversation with God.
Within this freedom you will find more healing, deeper conversations with your soul and more clarity on the purpose of your existence. Stay steadfastly focused on the Lord and you will find peace and brighter days. You are important and you have value. You are not alone.
Isaiah 26:3-4, Thou wilt keep him in perfect peace, whose mind is stayed on Thee: because he trusts in Thee. Trust ye in the LORD forever: for in the LORD JEHOVAH is everlasting strength.
Psalm 126:5 – Those who sow in tears will reap with songs of joy.
UPLIFT MY THOUGHTS:
Dear God,
I come to you in my hour of need. I ask you to touch my mind and uplift my thoughts, change my seeming realities that I'm thinking about my life, change my opinion of what is and what can be.
God, I ask that you to give me a sense of well being again. I pray that you help me find my smile, both on my face and in my soul. God I cannot do this by myself, so I turn to you, and I surrender.
In Jesus Christ's name, Amen.
DISTURBED PRAYER
O Christ Jesus,
when all is darkness
and we feel our weakness and helplessness,
give us the sense of your presence,
your love, and your strength.
Help us to have perfect trust
in your protecting love
and strengthening power,
so that nothing may frighten or worry us,
for, living close to you,
we shall see your hand,
your purpose, your will through all things.
-St. Ignatius of Loyola
LIFT ME UP
Dear God,
I pray that you will lift me up. Lift me up so I can get on with my life. I do not know where to turn, God, so I ask you to work through me and to attract to me a life that will be everything that I need for sustained happiness and fulfillment. I may not know what that is, God, but I trust that you do and that gives me hope. It also gives me hope that you can come through me, touch me, and uplift me.
I give thanks, God, that this is now occurring in my life, and I decree that it is so.
In Jesus Christ's name, Amen.
HEAL HURT FEELINGS
Dear God,
I pray that you will help me get beyond feeling weighed down by the burden of hurt feelings of the past.
Help me to get beyond yesterday's upset thoughts.
I pray for healing.
I know that nothing can withstand the healing power of God's love.
I open my heart to God's love, and I bask in the glow of Divine light and understanding.
I pray for healing in God's love today.
In Jesus Christ's name, Amen.
RELEASE FEELINGS OF SADNESS
Dear God,
I release all concerns and pray that with your help, all gloominess will be removed.
I release feelings of sadness, feel your powerful presence enfold me, and give thanks for your good that is governing every situation in my life.
I willingly let go and let God because I know that each time I do, I am opening the door to endless possibilities and complete joy.
Help me lift my thoughts, Dear God, and feel the assurance of your presence.
In Jesus' name, Amen.
HELP ME MOVE FORWARD, GOD
Dear God,
I ask you to help me cast out feelings of hopelessness, sadness, and frustration and help me move forward.
I know you are beside me.
I feel your surrounding comfort, understanding, and unconditional love, wrapping around me, like a blanket, calming my fears and lightening my heart.
Thank you, Dear God, for always being there for me and with me, each and every day.
I pray that I am able to release the sadness I feel and enjoy the adventure of the journey.
In Jesus Christ's name, Amen.
FROM DEPRESSION TO JOY
Dear God,
I pray that I live my life in joy.
Whatever is keeping me from the full expression of joy; I pray that it is spiritually removed, or that I can look beyond it, to discover the true beauty in my life.
I want to live more; I want to expand my awareness; I want to live in joy.
Help me dear God to realize this now.
Thank You, God.
In Jesus Christ's name, Amen.
FROM DEPRESSION TO PEACE
Dear God,
Beginning now, I no longer feel depressed.
My depressed mood is cast out and replaced with your peace.
Tranquility permeates my being, soothing my emotions and filling my mind and heart with joyous serenity.
I accept your gift of peace.
I come to you, Dear God, and my mood is lifted.
I fully accept your peaceful presence, and I feel calm.
This moment is holy, for in this moment, I enter into your spirit of peace.
Thank you, dear God, for helping me to elevate my mood.
Thank you God for your priceless gift of peace. I will cherish it, and I promise to share it with others.
In Jesus Christ's name, Amen.
PRAYER FOR THOSE COPING WITH DEPRESSION
Dear Lord, you are our refuge in good and in bad times.
In your infinite mercy, bring peace and comfort to those of us who face days sometimes filled with pain and depression.
Help us to realize that through you there is joy and the promise of lasting peace.
Help us through the rough times.
Walk before and beside us so that we may walk in your footsteps and reach out to you in our journey on this earth.
Help us to focus on our blessings rather than our misfortunes, dear Lord.
Thank you for hearing and answering our prayers.
Amen
VERSES:
Deuteronomy 31:8 – The Lord himself goes before you and will be with you; he will never leave you nor forsake you. Do not be afraid; do not be discouraged.
Psalm 145:14 – The LORD upholds all those who fall and lifts up all who are bowed down.
Psalm 62:5 – Find rest, O my soul, in God alone; my hope comes from him.
Isaiah 35:10 – And the ransomed of the Lord will return. They will enter Zion with singing; everlasting joy will crown their heads. Gladness and joy will overtake them, and sorrow and sighing will flee away
Isaiah 40:31, But they that wait upon the LORD shall renew their strength; they shall mount up with wings as eagles; they shall run, and not be weary; and they shall walk, and not faint.
Isaiah 53:4 – Surely he took up our sicknesses and carried our sorrows.
Mark 9:23 – Everything is possible for him who believes.
Romans 15:13 – May the God of hope fill you with all joy and peace as you trust in him, so that you may overflow with hope by the power of the Holy Spirit.
Philippians 4:6-7 – Be anxious for nothing, but in everything by prayer and supplication with thanksgiving let your requests be made known to God. And the peace of God, which surpasses all comprehension, will guard your hearts and your minds in Christ Jesus.
Psalm 147:3 – He heals the brokenhearted and binds up their wounds.
Psalm 143:7-8 – Answer me quickly, O Lord; my spirit fails. Do not hide your face from me or I will be like those who go down to the pit. Let the morning bring me word of your unfailing love, for I have put my trust in you. Show me the way I should go, for to you I'll lift up my soul.
Psalms 9:9 – The Lord is a refuge for the oppressed, a stronghold in times of trouble.
Recently, we heard an inspiring story from a fellow believer, John, who reached out to share his miracle with us:
"My prayers came true! My dad was healed from stage 4 prostate cancer after submitting my prayer request. Glory to God! Your service brought me closer to Jesus Christ, making me feel his love and grace."
Such stories remind us of the power of faith and prayer, and how our collective spirituality can make a profound difference.
What happens when you submit your prayer?

We will personally deliver your confidential prayer to the Church of the Holy Sepulchre in Jerusalem.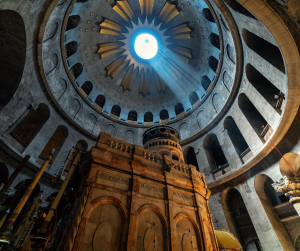 We will place your prayer on the Stone of Anointing; the place where Christ' body was laid down after being removed from the crucifix and prepared for burial.
We will light a candle on your behalf foot steps away from the Tomb of Jesus.
You will receive an email with photos of your printed prayer on the Stone of Anointing.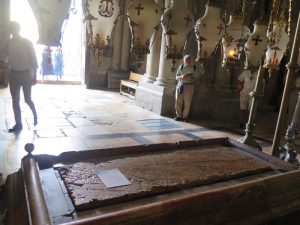 In the unlikely event that you are not completely satisfied with our service, please remember we offer a guaranteed refund, no questions asked. We are dedicated to ensuring your spiritual journey with us is fulfilling and meaningful.
We will print and place your prayer request on the Stone of Anointing; the place where Christ' body was laid down after being removed from the crucifix and prepared for burial.