Prayer for the Dead
The lose of a loved one is one of the most difficult things that a person can experience in their life. However, a prayer for the dead can help you to feel more at peace with this lose and help you to feel closer to God at the same time. We have gathered various powerful prayer requests for the dead and verses from the bible for you to read out loud or in silence and grief over your loved ones who have past away. Our prayer is that these prayers for the dead will give you comfort in your time of grief and give you the peace of mind of knowing that the Lord will always hear your prayers.
Miracles Do Come True! Send Your Prayer to The Church of the Holy Sepulcher in Jerusalem:
A Prayer for the Dead
Heavenly Father, please hear this prayer for the dead and provide these souls with your abundance of love as they enter your heavenly kingdom. Help the families and loved ones left behind to understand that you have a plan for everyone. Help them to find peace in their time of mourning and to know that no matter what you are always with them through the pain that they may be feeling. Amen.
A Prayer for the Soul
Dear God, I humbly ask you to hear this prayer for the soul of my loved one. Please allow them to transition into your heavenly circle of hosts. Forgive any sins that they have weighing on their soul and allow them to bask in the light of your grace and mercy so that they can live with you in paradise forever. Amen.
Prayer for the Soul to Rest in Peace
We thank You Lord for the passing of our brother/sister. We exalt Your name for the good life he/she lived. We pray oh Lord, that everlasting life be given unto him or her. And as he or she abides in Your garden, let Your angels touch what he/she cannot touch again. Father, be with his/her soul and may he/she rest in perfect eternal peace. Amen
Short Prayer for the Dead
Eternal rest grant unto him, O Lord, and let perpetual light shine upon him. May he rest in peace. Love always, in the name of Jesus. Amen
Prayer for the Dying
Oh Lord, You are the ADONAI and the one everlasting God. You made the lands and the seas and You have complete dominion over life and death. It is also by Your will that we live and die and we pray for this dying soul. If it's Your will today for him/her to stay in this world, we rejoice in the miracle You allowed us to witness. But if You need Your beloved son/daughter with you, we pray You welcome him/her into Your bountiful bosom where he/she will rejoice for all eternity. We exalt Your name oh Lord and we glorify Your deeds in our lives. Amen.
Bible Verse for the Soul to Rest in Peace
"Come to me, all you who are weary and burdened, and I will give you rest. Take my yoke upon you and learn from me, for I am gentle and humble in heart, and you will find rest for your souls. For my yoke is easy and my burden is light."
Matthew 11:28-30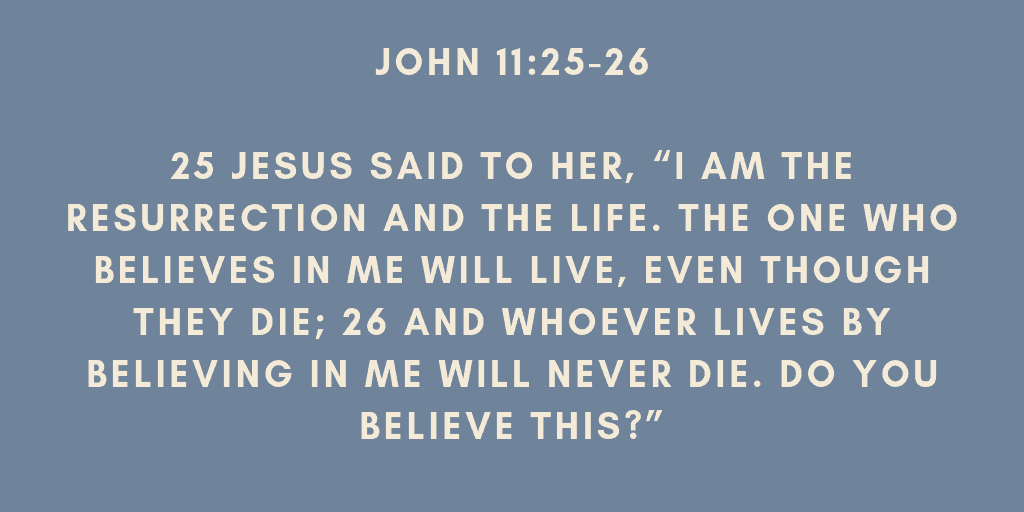 Prayer for Grieving
Lord God above, we, Your humble children kneel before you today in reverence. We know You're the greatest and You're the king of all kings. So, we pray You uplift our heart and soul so that we may cast away our sorrows oh Lord. Give us the strength to surpass this situation. No one dies without Your say-so and thus, we rejoice over this triumph and we pray You be with our deceased brother/sister. We thank you for the answered prayer and in Jesus name, Amen.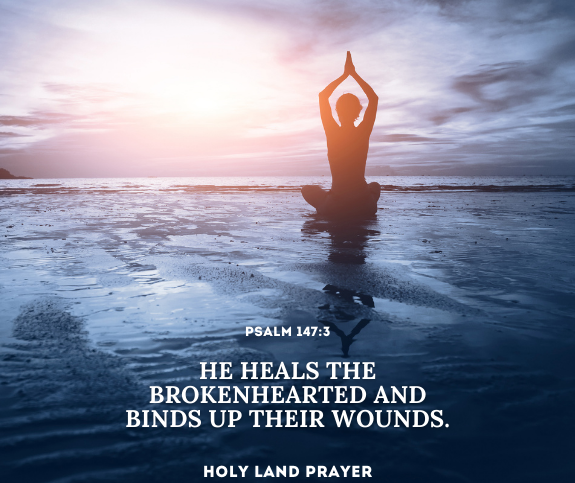 Prayer for Death of a Loved One
May the light of Jesus and the Angels bring Peace and Salvation to my father. May he rest in peace knowing that his soul belongs to GOD and GOD only. No demon, no devil, no principality, no evil spirit has access to his light and salvation. All is well with us DAD go home and rest. We love you and one day soon we will see you in HEAVEN!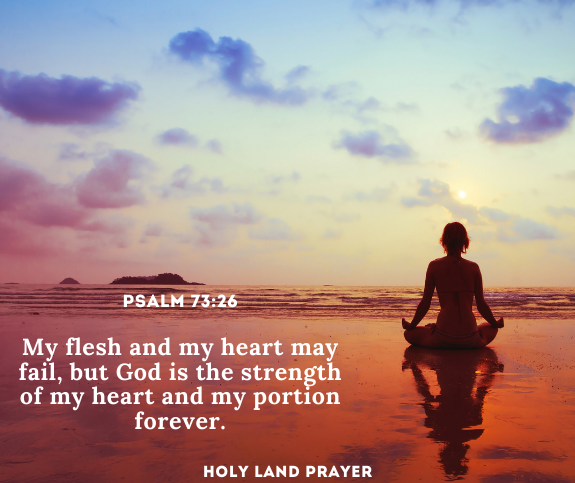 Prayer for a Departed Soul
Heavenly Father bless ____ and have mercy on his eternal soul; forgive his trespasses; grant him peace for he was a faithful man who loved his fellow man; bless his departed soul and welcome him into the joy of everlasting brightness in heaven; through Jesus Christ our Lord, Amen.
Prayer for Wife/Mother/Grandmother Who Passed
I commend you, my dear wife, mother and grandmother to Almighty God, and entrust you to your creator. May you rest in the arms of the Lord who formed you from the dust of the earth.
Please watch over our family in these difficult times.
May Holy Mary, the angels and all the saints welcome you now that you have gone forth from this life. May Christ who was crucified for you, bring you freedom and peace. May Christ who died for you, admit you into his garden of paradise. May Christ, the true Shepherd embrace you as one of his flock. May he forgive all your sins, and set you among those he has chosen.
Amen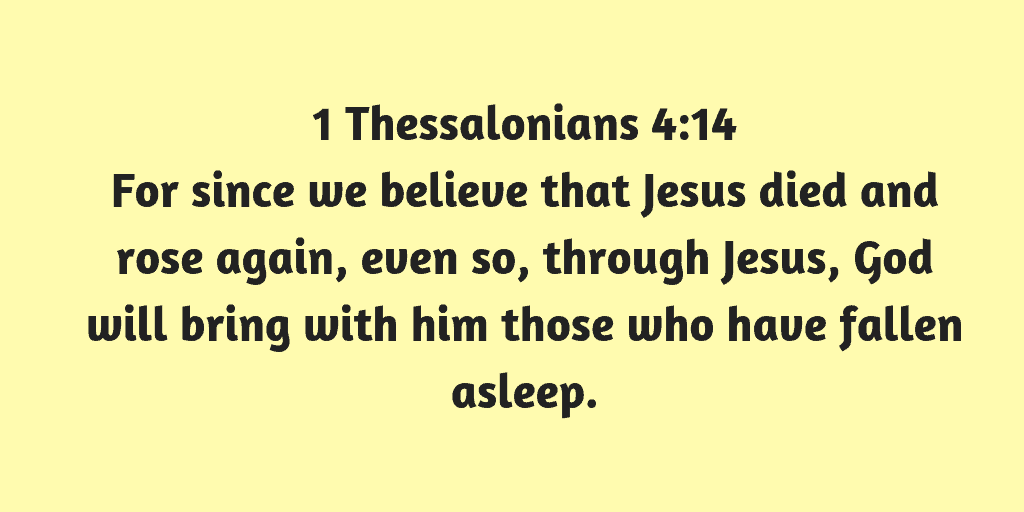 Bible Verses for  the Loss Of A Child
But Jesus said, "Let the little children come to me and do not hinder them, for to such belongs the kingdom of heaven."
Matthew 19:14
Christian Prayer for the Dead
Our heavenly father, our family prays that You will find mercy on the soul of our brother and friend. We pray that with his unexpected death, his soul may find peace that he has lived a good life and did his best serving his family, workplace and loved ones while he was on earth. We also earnestly seek for the forgiveness of all his sins and all of his shortcomings. May he find assurance that his family will remain strong and steadfast in serving the Lord as he moves forward in his journey to eternal life with Christ, his Lord and Savior. Dear Father, take His soul into Your kingdom and let perpetual light shine upon him, may he rest in peace. Amen.
Revelation 14:13: And I heard a voice from heaven saying, "Write this: Blessed are the dead who die in the Lord from now on." "Blessed indeed," says the Spirit, "that they may rest from their labors, for their deeds follow them!"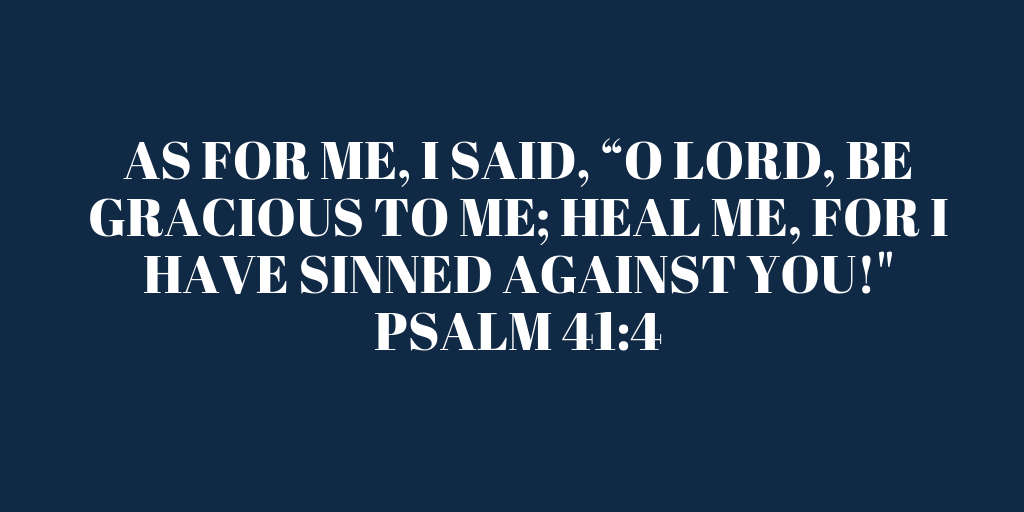 Prayer for the Soul of a Mother/Father
Dear Father, I thank You for taking care of my father/mother during their life on Earth. I thank You for giving them the opportunity to bring me into this world and I likewise thank You for the opportunity to have this prayer.  I rejoice over the life that he/she led while alive and for the good deeds he/she accomplished. Lord God, I thusly pray for the soul of my deceased mother/father and that You take care of him/her on his/her way to Your holy Kingdom. I thank you for listening to my prayers oh Lord, Amen.
"And if I go and prepare a place for you, I will come back and take you to be with me that you also may be where I am." – John 14:3
Prayer for a Brother/Sister
As far as I remember, my brother/sister has been with me through all the ups and downs of life. We ate and played together, gave advice to each other and kept no secret from one another. Now, seeing as he/she is gone, I pray that he/she finds everlasting life and eternal happiness in Your powerful embrace. I pray You watch over his/her wife/husband/children/investments on Earth and let Your gaze shift not oh Lord. I thank You for this prayer session and in Jesus name, I pray. Amen.
Prayer for the Departed Soul(s)
As said in 1st John chapter 5—verse 15, You're the omniscient God who we know hears all prayers. So, we pray for the soul(s) of our departed brother(s)/sister(s) that You, oh Lord may nourish and take care of him/her/them in Heaven. You encourage us to ask and that it shall be given to us and so, we've asked and we know our request has been given. We thank You for providing for the deceased when he/she was alive and for sheltering us—also to be present in this prayer. Amen.
More Bible Verses About Death
"Since the children have flesh and blood, [Jesus] too shared in their humanity so that by his death he might break the power of him who holds the power of death–that is, the devil– and free those who all their lives were held in slavery by their fear of death." (Hebrew 2:14-15)
"Brothers and sisters, we do not want you to be uninformed about those who sleep in death so that you do not grieve like the rest of mankind, who have no hope. For we believe that Jesus died and rose again, and so we believe that God will bring with Jesus those who have fallen asleep in him." (1 Thessalonians 4:13-14)
"Not only so, but we ourselves, who have the firstfruits of the Spirit, groan inwardly as we wait eagerly for our adoption as sons, the redemption of our bodies." (Romans 8:23)
"We want to reach the kingdom of God, but we don't want to travel by way of death. And yet there stands Necessity saying: 'This way, please.' Do not hesitate, man, to go this way, when this is the way that God came to you." (St. Augustine)
"Death is no more than passing from one room into another. But there's a difference for me, you know. Because in that other room I shall be able to see." (Helen Keller)
"When the time comes for you to die, you need not be afraid, because death cannot separate you from God's love." (Charles H. Spurgeon)