St. Charbel Makhlouf is an example of a saint that countless Catholics have a connection to around the world which is why so many develop prayer requests to this holy person. St. Charbel was born in Lebanon in May of 1828. His birth name was Youssef. He was brought up in a pious household and always found that he was drawn to his faith and religion. In turn, he had a particular draw to the Virgin Mary and would even install an icon of the Blessed Mother in a nearby grotto as a way to continuously venerate her.
St. Charbel Prayer Requests
In 1851, this powerful prayer warrior left home and would become a monk and ultimately become a hermit as well. At this point, he took the name Charbel. He lived a life of devotion to God and would ultimately be recognized as a saint in 1977 by Pope Paul VI. All over the world, there are countless Catholics who make prayer petitions to Saint Charbel for healing.
Recently, we heard an inspiring story from a fellow believer, John, who reached out to share his miracle with us:
"My prayers came true! My dad was healed from stage 4 prostate cancer after submitting my prayer request. Glory to God! Your service brought me closer to Jesus Christ, making me feel his love and grace."
Such stories remind us of the power of faith and prayer, and how our collective spirituality can make a profound difference.
What happens when you submit your prayer?

We will personally deliver your confidential prayer to the Church of the Holy Sepulchre in Jerusalem.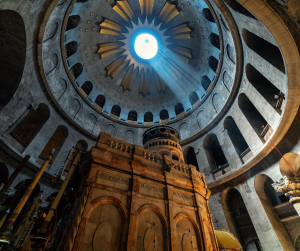 We will place your prayer on the Stone of Anointing; the place where Christ' body was laid down after being removed from the crucifix and prepared for burial.
We will light a candle on your behalf foot steps away from the Tomb of Jesus.
You will receive an email with photos of your printed prayer on the Stone of Anointing.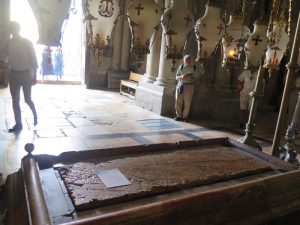 In the unlikely event that you are not completely satisfied with our service, please remember we offer a guaranteed refund, no questions asked. We are dedicated to ensuring your spiritual journey with us is fulfilling and meaningful.
We will print and place your prayer request on the Stone of Anointing; the place where Christ' body was laid down after being removed from the crucifix and prepared for burial.
There are different types of prayer petitions that you can make to Saint Charbel. Here are some examples of the most popular prayers to Saint Charbel for healing and general intercession: 
Dear Lord, You, who taught Saint Charbel how to be rooted in monastic vows which he lived in absolute silence and neutrality, conforming his life to Yours, help us to commemorate him and meditate his heroic and extraordinary life by telling him:





Blessed are you Saint Charbel, for you were passionate in prayer, virtue and piety when you were still a child in your far away village in Lebanon amongst your serene family and decent relatives.





Blessed are you, for entering the monastic life, accepting the call of God with full liberty and freedom. Thus, you left your humble and quiet village of Bekaa Kafra, North Lebanon and you never returned again.





Blessed are you for you dedicated your life to monastic vows and to the priesthood, participating daily in mass and looking continuously and tirelessly for the face of God.





Blessed are you for you shined over all the other hermits due to your absolute asceticism and your unnatural silence which astonished all those who knew you even after your death.





And now, my Lord, we ask you through the intercession of Saint Charbel, to keep your Church enriched with all those who have a similar life and who follow the path of our holy priests, hermits and monks who sacrifice themselves for the salvation of the whole world. Amen
O Jesus, You who invited the righteous Saint Charbel to join the monastic life rooting his faith among his Christian family in his village of Bekaa kafra, North Lebanon, give us through his intercession, families reanimated by the firm faith, the domestic virtues and the parental example so that they become source of real Christian vocations. Amen.
O Lord Jesus, you inspired the Saint, Monk and Hermit Charbel to live and die in your path and you gave him the strength to detach himself from the world in order to make triumph, in his hermitage, the monastic virtues. We implore Thee to bestow upon us the grace to love Thee and serve Thee following his example.





God Almighty, who has manifested the power of Saint Charbel's intercession, by the numerous miracles and favours, grant us our petition(s) by his intercession. Amen. 
If you're interested in developing prayer petitions to Saint Charbel for healing or other prayer intentions, be sure to look through our prayer wall. 
What is the miracle prayer for St. Charbel?
The St. Charbel prayer, often referred to as the "Miracle Prayer," is a supplication seeking the intercession of Saint Charbel Makhlouf. Through this prayer, believers seek the saint's intervention in their lives, particularly in times of physical, spiritual, or emotional distress.
Example prayer: "Oh, Saint Charbel, devoted servant of God, I humbly come before you and seek your intercession. Please hear my prayer and present it to our Lord Jesus Christ. (State your specific request here). I trust in your powerful intercession and believe in the miracles attributed to your name. In Jesus' name, I pray. Amen."
What is Saint Charbel the patron saint of?
Saint Charbel Makhlouf is widely recognized as the patron saint of various aspects of life and faith. He is primarily known as the patron saint of healing and miracles. Many individuals turn to him for assistance with physical ailments, illnesses, and other health-related challenges. Saint Charbel is also considered a protector of families, farmers, and those in need of spiritual guidance.
What is the instant miracle prayer Catholic?
The instant miracle prayer in the Catholic tradition refers to a prayer that seeks immediate assistance or intervention from a saint or the divine. While there is no specific prayer designated as the "instant miracle prayer" for Saint Charbel, believers often recite a heartfelt and urgent prayer to request immediate help in times of crisis, distress, or urgent needs.
Example instant miracle prayer: "Saint Charbel, I implore your immediate intercession in this moment of dire need. Please hear my cry and bring forth a miraculous intervention in my life. (State your specific request here). I trust in your intercession and believe in the power of miracles. In the name of the Father, the Son, and the Holy Spirit. Amen."
What is the novena prayer for St. Charbel?
A novena is a nine-day prayer devotion in the Catholic tradition. Devotees often engage in novenas to seek the intercession of saints for various intentions. The novena prayer for St. Charbel involves reciting specific prayers for nine consecutive days, beseeching his assistance and invoking his powerful intercession.
Example novena prayer: "Oh, Saint Charbel, faithful servant of God, I come before you with a humble heart. During these nine days, I seek your intercession and ask for your powerful intervention in my life. (State your specific intention for each day of the novena). I trust in your unwavering devotion and pray for your assistance. In Jesus' name, I pray. Amen."