Joining a prayer group is something that could be life changing for you and it is something that can help you to better develop your prayer requests. There are many times where a person could feel as though they are at a loss when it comes to their faith. Although they may be continuously praying their prayer intentions every day or praying prayers for faith, they may simply feel at a loss. Putting together a prayer group can help you not only feel closer to God but closer to other people who share your faith which is something that can completely change your faith life.
We will print and place your prayer request on the Stone of Anointing; the place where Christ' body was laid down after being removed from the crucifix and prepared for burial.
Why You Should Join Prayer Groups
Catholics and Christians all over the world join prayer groups for various reasons. Here are some of the reasons why so many people make the decision to join a prayer group: 
A unique support group
Do you feel as though you're struggling in your faith? Are you looking to connect with other people who share your religious views? Joining a prayer group is the best thing that you can do. During a prayer group, you may develop a better understanding of your own faith. In turn, you may find it easier to be able to evangelize your faith for other people.


A sense of unity and belonging
Joining a prayer group can certainly provide you with a tremendous sense of unity and belonging. Although you may have added

unity prayers

into your daily prayer life, praying this type of prayer for your prayer group could help you to feel as though you're a part of something truly special.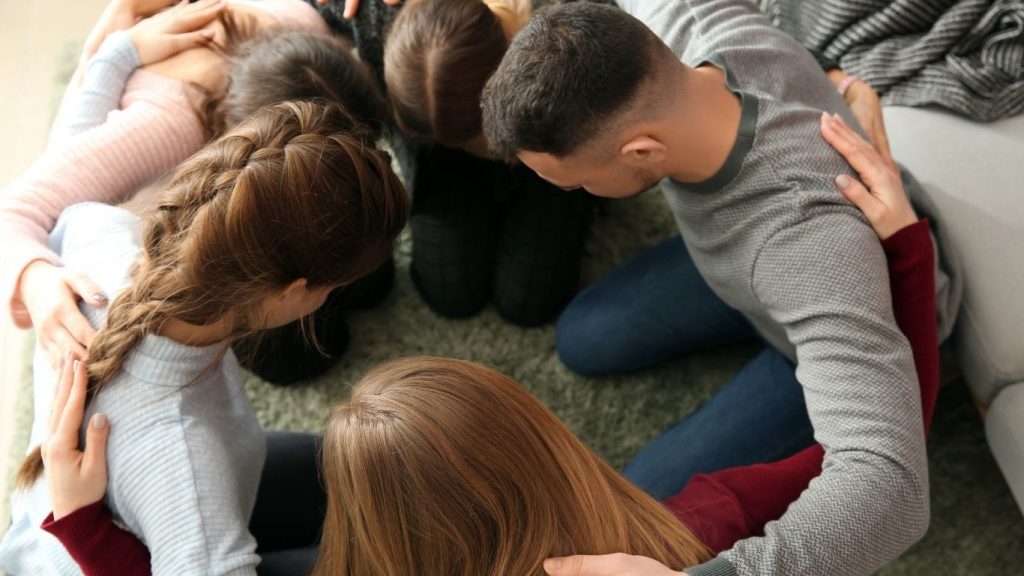 Powerful Prayer Intentions that You Can Incorporate Into Your Prayer for Group
There are several prayer intentions that you can mix into the overall flow of your prayer group. Some examples of prayer intentions that you can tap into include: 
Prayers for the Dead
Losing a loved one at any stage of your life is something that no person ever wants to go through. However, if you find yourself grieving for the loss of a loved one,

prayers for the dead

can certainly help you in these feelings and emotions. You can opt to pray for the soul of the person that passed away but you can also pray for yourself for strength that you will be able to push through what you're currently feeling.
Prayers for Family
Every person that is a member of your prayer group is going to have a family that they love and care about which is why it would be wonderful to incorporate

prayers for family

into your prayer group meeting. These prayers can be generally simple and include the family of every member of your group. However, if a person in your prayer group is struggling, you may want to make these prayers more targeted.
One of the fantastic things about prayer in group is the fact that it can take place almost anywhere at any time. For instance, you can opt to join prayer groups online, or you can take part in prayer for group bible study. There are also several prayer Whatsapp group links or your child can join a prayer youth group. As long as you're dedicating time to prayer and better developing your relationship with God, you will undoubtedly feel as see the benefits of it. 
Your Prayer Group Can Submit an Prayer Request Online
If you or your prayer group would like to submit a prayer request online, Holy Land Prayer can help you to do that. We take your powerful prayer requests and pray them on your behalf at the Church of the Holy Sepluchre which is considered to be one of the holiest locations in the world. Submit your online prayer request today. God will always hear the words of His faithful.