Prayer for Wisdom
What is wisdom? Is it something you gain through experience or does it come from God? Can you pray for wisdom?
When I was younger, my parents would often say things like, "You'll never get anywhere without wisdom." They meant that wise decisions are necessary for success. In other words, you need to make good choices to reach your goals.
The Bible says that wisdom comes from above (James 3:17). That means you don't earn wisdom, you receive it directly from God. If you want to become wiser, ask Him for wisdom daily. He promises to give it to us.
Wisdom Prayer
I pray Lord Jesus Christ, my creator,
forgive me for I have sinned before You.
Please help me to recognize Your wisdom.
Help me to understand how to apply Your Word.
Give me understanding about myself and others.
Teach me how to live out Your principles.
Amen.
Prayer for Wisdom and Knowledge
I pray for wisdom, understanding, insight, guidance, and protection. I ask that my mind be open to receive these gifts. I know that they have been sent to me, and I am grateful for them. I thank God for his love and care for me. May he bless me with the knowledge that comes only from him. Amen.
Prayer for Wisdom and Guidance
Heavenly Father, I/we pray before to You today to ask for wisdom and guidance in all that we do. We can only focus on the present and the past, but only You knows the future. So plan our path for us and help make the best decision for not only ourselves but for our family and everyone around us. I/we thank You for listening to our prayers, and In Jesus Name, Amen.
Prayer for Financial Wisdom
Please pray for financial wisdom. Pray I make wise and smart financial decisions and that the Lord directs my steps for my family. Pray our fourth baby stays in for two more weeks. Pray the delivery goes perfectly and we have a perfect, healthy little girl! Pray for recovery that all goes well and our spirits are filled.
Praying for Wisdom and Knowledge
My God and our Father, I turn to you seeking your divine help and mercy as I look to you for a miracle, a miracle my father that I will pass my exam. My God and My Father I ask you for wisdom, knowledge and understanding that I will remember everything I have studied and read when i attempt this exam soon, please do not abandon me in this time of need, but rather grant me this favor I seek so that I will return to you with praise and thanksgiving for your gracious assistance. In your holy name. Amen.
Prayer for Direction and Clarity
Lord, I/we pray for direction and clarity. I/we want You to direct me/us through this stage in my life and the next. I/we need clarity so that I/we will recognize Your signs and follow Your instructions. Father guide me/us so that I/we will not fall, and if I/we do, catch me/us, Lord. Thank You for granting me/us this opportunity to pray, and In Jesus Name, Amen.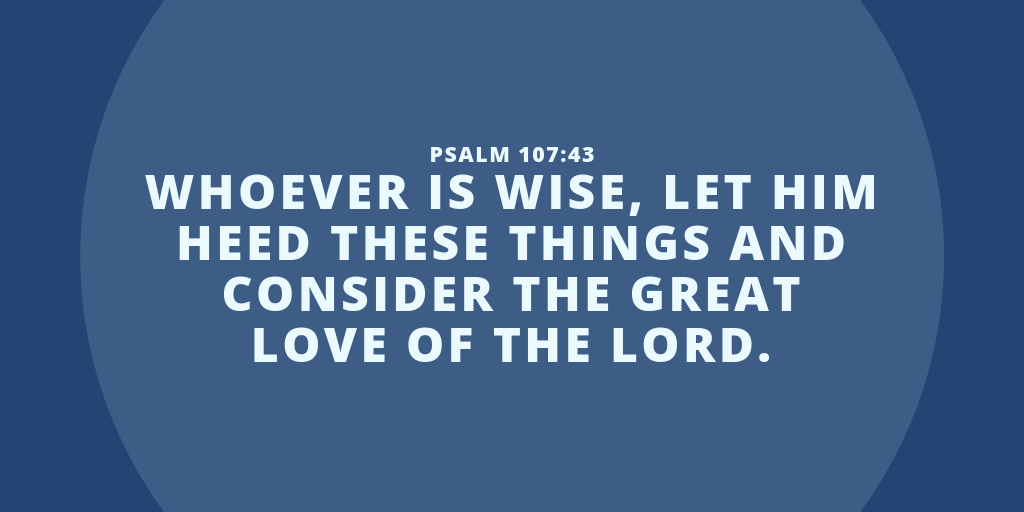 Prayer for Wisdom and Discernment
Father, I/we stand before You today to ask for miracles. I/we pray for enough wisdom Oh Lord, that I/we will be able to discern which path is right for me/us and which one I/we should avoid. God, bless me/us with wisdom, and thus, give me the ability to make the best judgments in any scenario I/we find myself/ourselves.
In Jesus Name, Amen.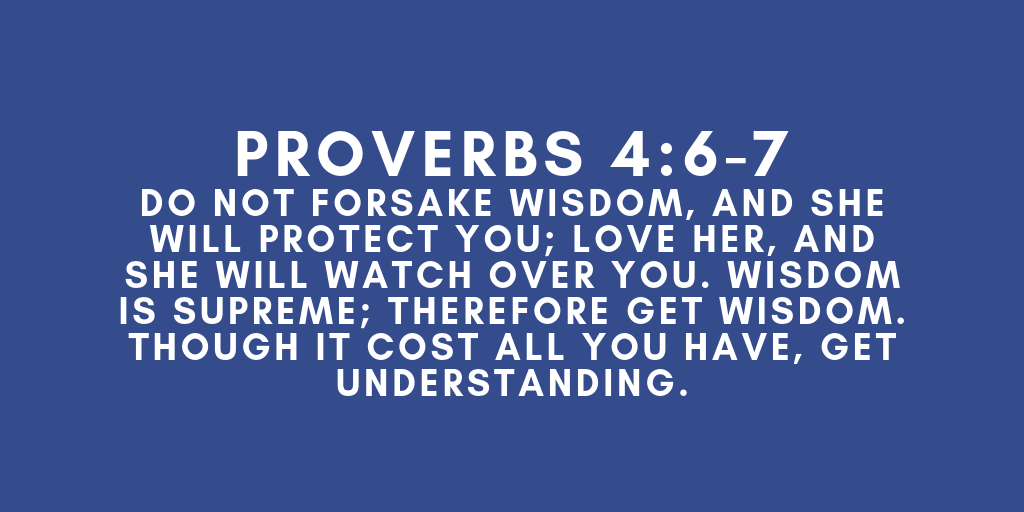 Prayer for Divine Wisdom
God, I am here today to ask for divine wisdom. In any scenario I find myself, I'm always confronted with a lack of a direct solution. So I pray to You that You give me the insight into how I will manage all the crucial aspects of my life. Teach me, for I will listen and adhere to Your advices. Thank You Father for answering this prayer, Amen.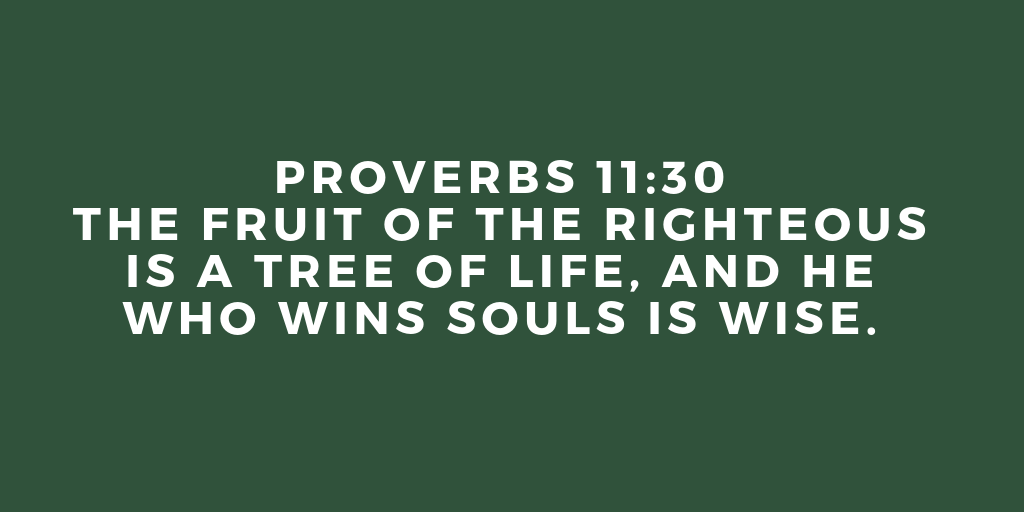 Prayers for Guidance in Decision Making
I'm here before You to seek guidance in making the best decisions for not only me but the people around as well. Financially and emotionally, You're my support, and I know with Your grace and divine intervention, this is just one, out of the many miracles You will perform. I exalt Your name, Lord, and In Jesus Name, Amen.
Prayer for Direction and Clarity
Lord, as You guided Moses through the Red Sea to the promised land, and also the same with Joseph in Egypt, I want You to guide me too. Give me clarity Father in the Heavens, and I'll know where to direct all my actions. Don't let me walk in the dark, but instead illuminate my way. Thank You for this short session, and In Jesus Name, I pray.
Prayers to God for Strength
I present myself to You Father as Your humble child, to pray for strength to power through my endeavors. I pray that when I'm weak Lord, You will pull me up; and when I'm up, You walk with me, and guide my every action. Thank You for being with me, and granting me my mercies, and In Jesus Name, Amen.
Prayer for Wisdom at Work
Father, I pray for wisdom to handle work. From my colleagues to my boss, give me the strength to acclimate to any situation I find myself in. I need You to intervene in my life and take control of my career. Thank You for giving me an ear to talk to, and In Jesus Name, Amen.
Bible Verses about Wisdom
My goal is that they may be encouraged in heart and united in love, so that they may have the full riches of complete understanding, in order that they may know the mystery of God, namely, Christ, in whom are hidden all the treasures of wisdom and knowledge – Colossians 2:2-3
Do not forsake wisdom, and she will protect you; love her, and she will watch over you. The beginning of wisdom is this: Get wisdom. Though it cost all you have, get understanding – Proverbs 4:6-7
But the wisdom that comes from heaven is first of all pure; then peace-loving, considerate, submissive, full of mercy and good fruit, impartial and sincere – James 3:17
Recently, we heard an inspiring story from a fellow believer, John, who reached out to share his miracle with us:
"My prayers came true! My dad was healed from stage 4 prostate cancer after submitting my prayer request. Glory to God! Your service brought me closer to Jesus Christ, making me feel his love and grace."
Such stories remind us of the power of faith and prayer, and how our collective spirituality can make a profound difference.
What happens when you submit your prayer?
We will personally deliver your confidential prayer to the Church of the Holy Sepulchre in Jerusalem.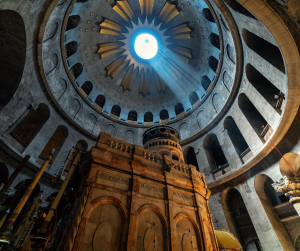 We will place your prayer on the Stone of Anointing; the place where Christ' body was laid down after being removed from the crucifix and prepared for burial.
We will light a candle on your behalf foot steps away from the Tomb of Jesus.
You will receive an email with photos of your printed prayer on the Stone of Anointing.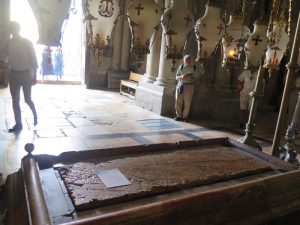 In the unlikely event that you are not completely satisfied with our service, please remember we offer a guaranteed refund, no questions asked. We are dedicated to ensuring your spiritual journey with us is fulfilling and meaningful.
We will print and place your prayer request on the Stone of Anointing; the place where Christ' body was laid down after being removed from the crucifix and prepared for burial.